The DigiView is a versatile high resolution digital camera.The CCD sensor has a particularly high Quantum Efficiency (QE), peaking in the blue-green spectrum for use with an optimized phosphor screen coating, resulting in higher sensitivity for electron backscatter diffraction (EBSD) applications.
Noise is significantly reduced using a single stage Peltier cooling system that does not require a cooling fan. The DigiView EBSD camera is designed to serve a wide range of EBSD applications.
Using the DigiView in combination with EDAX's TEAM™ Analysis System software, the camera can obtain orientation mapping data at rates up to 200 indexed patterns per second with indexing success rates of greater than 99%.
The camera can produce high resolution images up to 1392 x 1040 pixels.el.
Features
| | |
| --- | --- |
| High CCD of QE | > 62% @ 500 nm |
| 1,4 megapixel resolution | 1392 (H) X 1040 (V) |
| Dual speed readout | 20 e 40 MHz |
| Low read noise | <8e- @ 20 MHz |
| Gain control range | 35 dB fully adjustable |
| Long term exposure | Up to 15 minutes |
| Input voltage 110/220 VAC 50/60 Hz | ✔️ |
| Data collection rates up to 200 indexed patterns per second | ✔️ |
| 12 bit digitization | ✔️ |
| High signal to noise ratio | ✔️ |
| Gigabit ethernet protocol | ✔️ |
| No mechanical shutter | ✔️ |
| CE certified | ✔️ |
Control of the DigiView is available through the software applications, with full control over the gain, black level, exposure time, and binning settings. Comprehensive image processing capability is also included for optimal image quality. The camera uses a bellows-based insertion and retraction system for operation while under vacuum and for live-imaging for maximum vacuum and system integrity. An optional integrated Forward Scatter Detector (FSD) is also available.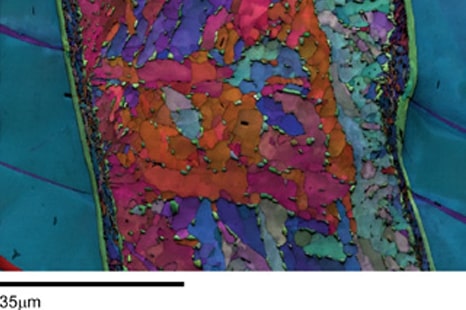 Team EBSD
The EDAX EBSD TEAM ™ analysis system is the most complete system available for analyzing crystalline microstructures.
The solution achieves the crystallographic orientation, the grain size and the phase distribution information from single crystalline materials and polyphases through the collection and analysis of backscatter electronic diffraction patterns (EBSD) in a scanning electron microscope (SEM ). TEAM ™ EBSD Analysis System combines the ease of use of the TEAM ™ software platform with the analytical power of the IOM to provide the characterization of crystalline structure at the forefront to all users.